Quarterly monitoring and training of Bantay Sanktuwaryo members

From December 4-14, 2011, the Mabuwaya team conducted a quarterly monitoring survey together with the Bantay Sanktuwaryo (BS) members (Sanctuary guards) in San Mariano, Isabela Province. In Dunoy Lake one adult and three juvenile Philippine crocodile were observed. Under the 4-C project, the village of Dunoy will receive an annual reward of 1000 Pesos (ca. 18 Euro) for each Philippine crocodile counted as an incentive to protect crocodiles. The villagers living in Dunoy requested Mabuwaya that the reward be used to construct a concrete pavement to serve as a solar dryer for the rice and corn that they cultivate. In December the Sanctuary guards were also trained in the proper handling of crocodiles, counting of marked scutes, proper measurement, basic photography and release of crocodiles that are accidently caught by fishermen.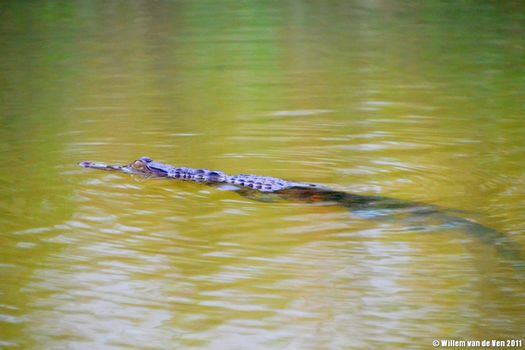 Released crocodile swimming towards freedom

Back to the wild and upgrading the Information Centre

A juvenile Philippine crocodile was released back into the wild. This individual joined the wild population of Philippine crocodiles in Narra Lake in the municipality of San Mariano, Isabela Province. The crocodile was reared in the Municipal Philippine Crocodile Rearing Station to increase its survival chances. Mabuwaya collects wild born hatchlings in areas where these small crocodiles have little chance to survive and raises them in captivity. After 1.5 – 2 years these "head-started" crocodiles are released back into the wild. Crocodiles from one breeding site are released in another to increase genetic variation within the small population of Philippine crocodiles in San Mariano. Twenty seven crocodiles are currently raised to be released in 2011 and another 24 were born and collected in 2011 and will hopefully all survive to be released in 2013.